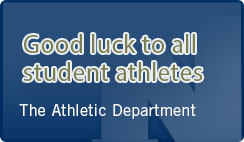 Newington High School
Girls Soccer 2017
TEAM STORE
The apparel store is now open.
Please note it is not required that players purchase apparel, nor does purchasing apparel guarantee a position on any team.
Information is below:
www.billingssports.com
on homepage click on "online order form"
enter code: NHSGSOC17

site will be live until 8/30 at midnight
There are also some additional preseason camp t-shirts available for sale for $9.00. If interested, please see Coach Adam.
Additional Information
ACL Prevention / Injury Reduction / Warm Up
During the preseason camp, preseason and regular season we will be warming up using the FIFA 11+ is a 20-minute comprehensive warm-up program designed to reduce injuries among soccer players ages 14 and older. FIFA 11+ is used on the field without any additional equipment and consists of 15 exercises divided into three separate components:


Running exercises (8 minutes) encompassing cutting, change of direction, decelerating and proper landing techniques, and strength;

Plyometric and balance exercises (10 minutes) that focus on core strength, eccentric control and proprioception;

Running exercises (2 minutes) to conclude the warm-up and optimally prepare the athlete for athletic participation.
More information can be found here: http://usclubsoccer.org/2017/03/08/fifa-11-a-warmup-program-proven-to-reduce-injuries-and-severity-of-injuries/

|

|

Share